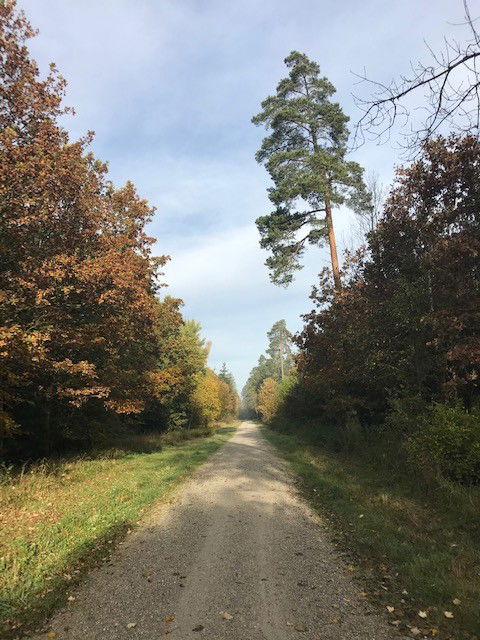 I love those autumn days. That's one of the reasons why I try to get outside every time it's possible. Today it was such day once again. And this time I don't want to bore you with wise words how to become satisfied and how to live your best life. No, this time it's more out of my private life, kind of storytelling. Seeing the world through my eyes. And if you're wondering, why I write in English, well I just can say, I figured out one of my big targets, which leads me to speak and practise more English for the future. Everyone who knows me quite well, knows what's this target about ;). And for all the others, English is world language, so I can't understand why not everybody can or want to speak. Now, let's dive into my Sunday.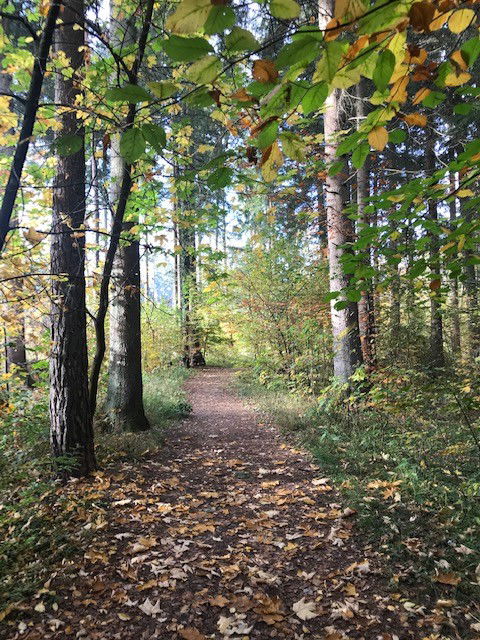 I have to say, I'm an early bird. I love to go out for a walk early in the morning, when the air is still so clean and sun is rising up, nature is awakening, less people are on the streets and everything's so quiet. Today I wanted to spent some time in the woods. As it's just around the corner from my home base I walked there and just letting my thoughts running free. Listening to some Finnish music first, I decided to listen to the music of nature. Hearing the birds singing, the leaves falling down and from time to time some people with their dogs passed by, saying "good morning". Something was different to having a walk in the woods of my beloved country Finland. Wasn't hard to find out. The silence was not the same. I still heard the noise from the highway. That's the disadvantage of such a big city, even when you don't live in the center.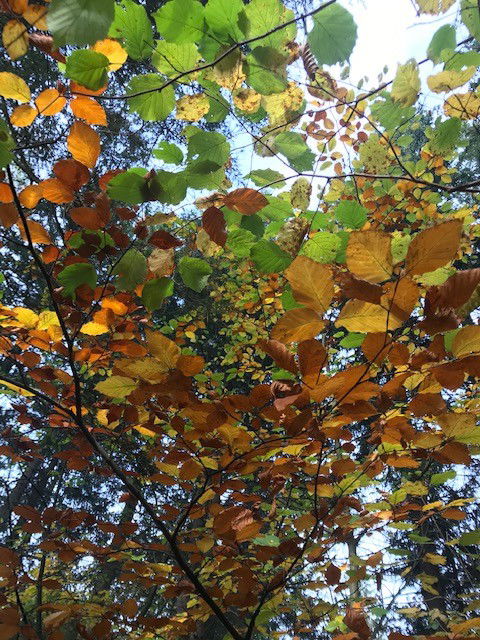 Anyway, it was beautiful. Just seeing those colours, thinking about this beautiful season, I decided to listen to some piano sounds. Yeah, not everyone knows this side of me ;). While I was walking on small paths, breathing this cold and fresh air, seeing those yellow and orange trees, I thought about this year. It's almost over and compared to those trees, who are preparing for the upcoming winter season, it seemed to me, these falling leaves might stand for letting the bad times of the year behind you. All those experience I made throughout this year seemed like that: Some of the leaves are still green, those are my beautiful memories, which I don't want to let go and keep on holding on for some weeks. But I know they will went away like those falling leaves of the trees. That's not a bad way, because they will be replaced by some even more beautiful memories and experiences, when the spring comes back and trees will show them with their new green leaves. I'll keep them secretly during the winter time :). The bad experiences and memories are already fallen on the ground. The wind will some blow away, but others are still lying there, next to the trunk. Those are the ones, who are still on my mind as it seems hard to forget them. Not sure, if I want to forget them? Latest with the first snow, they'll be covered and pass away.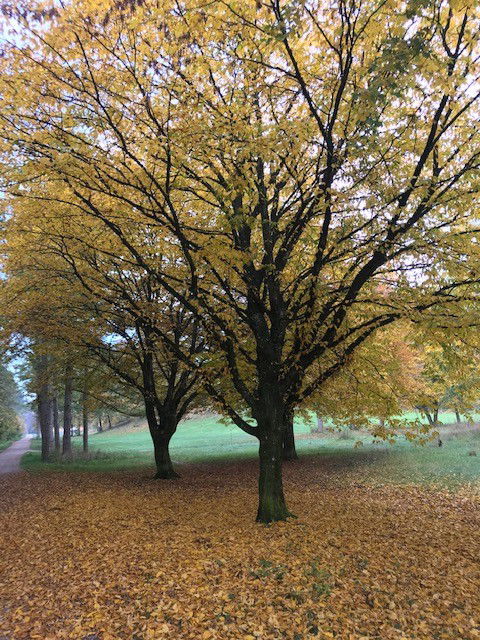 I was there completely on my own, just the piano music, those trees and myself. This is so mind-blowing and sometimes really necessary. When I went back I didn't want to follow the usual path where everyone was walking. As morning arises, more and more people went out, maybe having the same idea as I did. So I saw this small path, directly leading into the woods. I had no idea if it might go on somewhere, but at least I wanted to try. I stumbled around there, walking on such smooth ground, all covered with moss. But hey, where was this way going on? I didn't find any path going on, so I tried to get out there. Walking over fallen trees, stumbling over roots, I just had to laugh. I compared this to my life. Never want to go the usual way, which everyone goes, always going an extra round. It's like a river, not flowing in the straight direction, moreover wriggling through unknown land, taking a longer distance, a higher risk to get lost, but: Seeing more there, getting more experience, maybe meeting more interesting people and a higher chance to get more practice for whatever the future might bring.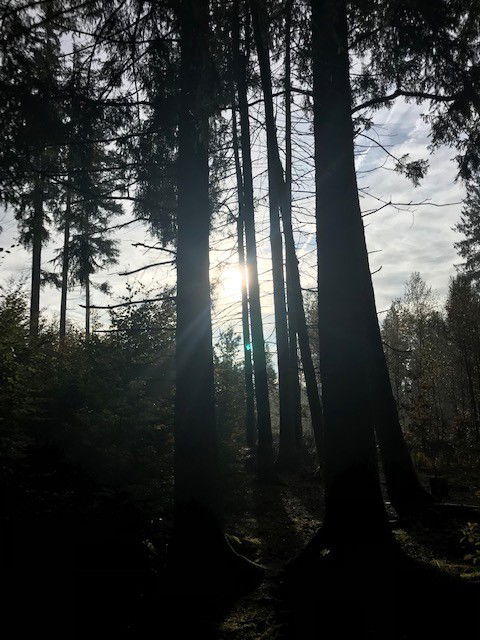 When I got out of this little adventure path, a woman, who was doing this kind of Nordic walking passed by fast. A dog, with beautiful blue eyes, passed by, looking at me, and I was wondering what he might think at this moment starring at me. Maybe the same as I did "wow, what beautiful blue eyes" ;). His owner walked by few minutes later. Everyone seemed to be in a rush and I remembered how close we are already to the city life…out of the woods, back into the rush. No matter if it's Sunday or Wednesday, everyone here always seems to be in a hurry.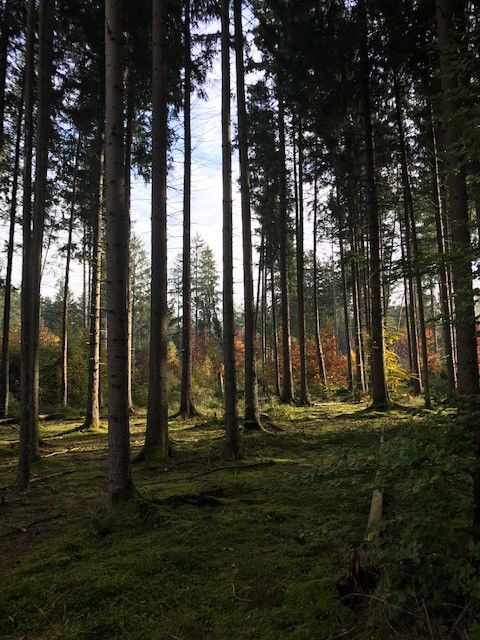 Back on the "right way" once again, this feeling didn't stop, I wanted to leave this standard path. So I took the next leading path into the woods. I remembered this already…and hey, yeah, there I have been when I started my round here. It's kind of doing same mistakes on and on again. But I recognised it early enough (this time, that wasn't always the case in real life) so as I crossed the path back, I followed this route. Still I didn't want to give up. Okay, last try, as all good things are counting 3, I found another small way into an unknown area. It started quite well, I was sure, this will lead to the street back. Then I got this feeling walking into the wrong direction, which leads me away from where I wanted to go. Stubborn as I am, I didn't want to return, so I went on. The path was getting smaller, shrubbery blocked my way, but didn't distract me to go on.
After a few minutes I saw something red, hey, I'm on the right way, a woman with a dog passed by and I was back on the main street. Sometimes this feeling of holding on, never give up, as you know you are doing the right thing, you are completely convinced of it and it's worth it, is a really helpful sign in your life. If it feels good for you, then go ahead with that. I did this throughout this year 2019 several times and never regret any of my "feelings" aka decisions. All those, I have made the last 10 months, they all were worth it and lead me the way to where I am now. I am proud of this and totally excited what the upcoming 2 months and next years might bring. I met people, who became really very important in my life now. I lost people, when I now saw if with some of them, it was waste of time, others were a big part within the last years, but not anymore. For me it's time for a big change now and I can't wait to start (which is already done) and to finish it.
Back to my walk now: I crossed the bridge of the highway, feeling the stress and hectic already. It got louder and more crowded. I had my time - there in the nature, in the woods with my thoughts - now the "modern" life is back.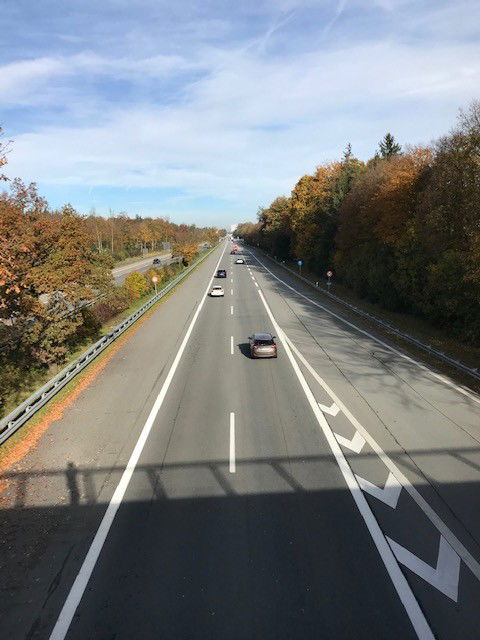 Switching from the silent piano music back to my daily life music, it was kind of culture shocking. As soon as I was walking next to the main street near my home, Limp Bizkit echoed on my headphones. How ironical as it was this song "Break stuff".
When I arrived at my place I took out the letters of my mailbox as I didn't do it yesterday. Well, what should I say: Welcome back to your life! A letter of the agency for employment arrived me, telling me my future "salary" (haha!). At the same time I received an ordered wrist band, which has the meaning of relaxation. How ironic, once again!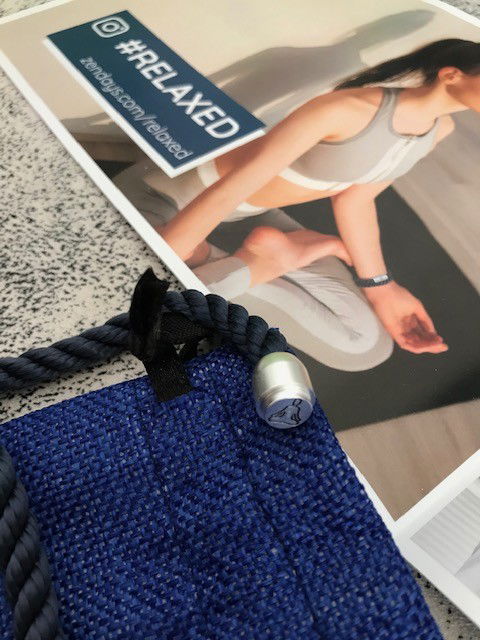 This all seems to make sense, this walk in the woods, diving into another life, coming back to reality, receiving those letters…I try to get more of this relaxation, as it seems this is one point, which is really hard to learn for me.
But I'm sure, I will and it will be worth it - for every part of my life :)